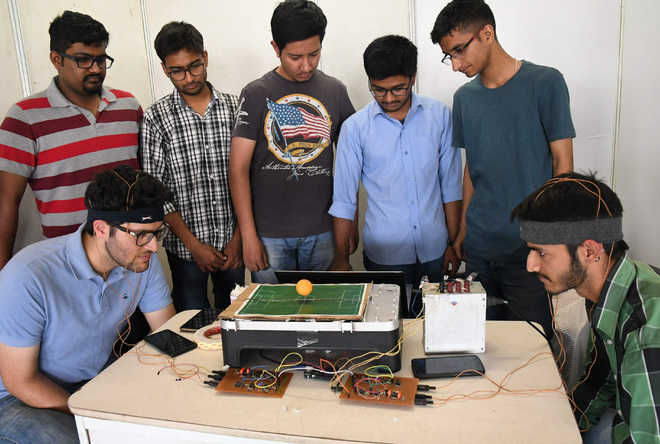 Amongst several categories of innovative projects in the Open House organised by the Punjab Engineering College, a deemed University; innovative technologies created by the young Engineers, stole the show.
The winners fell in three categories — Circuital Branches, Non-Circuital Branches and Technical Societies. Further, prizes under two special categories, 'Research with larger impact' and 'Most innovative idea', were also presented to the deserving teams.
Under circuital branches, 'Braille Tablet' made by Khuswant Rai, Esha Tandon, Simran Kaur and Garima Shukla secured the first position while 'I-Vote' and 'Bone Conduction Hearing System' secured the second and the third spots, respectively.
Under technical societies, 'Gesture-controlled wheelchair' made by Jatin Batra, Palak Jain, Ashmeet Jheetha, Aman Garg and Mukul Sahni secured the first position while 'LiFi' and 'Robotic Arm' secured second and third positions, respectively.
The project 'Smart Shoe for blind' won the prize under the 'Research with larger impact' category while 'Smart Gate Controlling Reservoir System' project secured the 'Most Innovative Idea' prize.
Braille tablet: The aim was to develop an alpha prototype of Braille tablet with a touch screen on the front side, provide Braille tactile on the opposite side of the tablet and voice command operation facility in it, thus helping people who are visually impaired to have an unlimited opportunity in their education personal productivity.
Gesture-controlled wheelchair: Its aim was to model a gesture-controlled wheelchair equipped with basic home automation applications vis-à-vis control of fans and lights as well as advanced features, including face detection-enabled security systems.