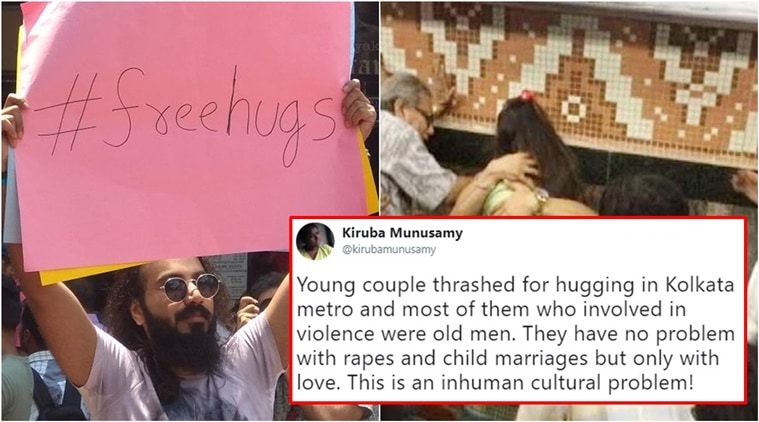 The recent assault of a couple by a few passengers who were affronted by their allegedly public display of affection on a Kolkata Metro train has spurred protests across the city over the last two days.
While a group of youngsters offered free hugs' outside the Dum Dum metro station to register their support for the couple on Tuesday, others lambasted the "frustrated passengers" who decided to play moral police in a city otherwise known for its tolerance. A similar protest was held at the Tollygunge station on Wednesday too.
In February 2017, a couple in Kerala went live on Facebook after they were harassed by police who accused them of "showing vulgarity". Cut to 2018, the issue of moral policing doesn't seem to be ending in the country. On Monday night, a couple in Kolkata was assaulted by a group of elderly men for "standing too close" to each other in the metro. Subsequently, they were beaten up at Dum Dum station. According to a journalist working with a Bangla daily, the man was first punched on and kicked in his face and when the woman tried to stop the assault, she was thrashed too. The incident resulted in protests, with many strongly condemning the act and others taking to the streets with placards that read — 'Free hugs'.
The unrest, fury and tension was quite palpable, on social media as well. Many, including author Taslima Nasreen, vehemently called out the explicit "moral policing" of the society that was on display. Nasreen tweeted out a picture of the couple getting beaten up, with this caption: "A young couple embraced in Kolkata metro. It made a bunch of frustrated old losers angry. They beat them up. Scenes of hatred are allowed. Scenes of love are considered obscene.